Blog
Friday, 20 September 2019 | Sarah
Autumn has arrived with all its' beautiful colours and at the moment we are also enjoying gorgeous sunshine.
Here at Vibrant Home we are working hard to reduce our packaging by reusing boxes that we receive from our suppliers where possible. We already reuse (100%) of the bubble wrap and other void fill that we receive. When we pack your gorgeous parcels, all the paper we use can either be recycled or reused by you for gifts or packing, as can the boxes. Sometimes we use cellophane when packing Raffia Baskets, but again this can be reused by you when sending gifts, packing parcels or if you have children, then in a creative art project.
Our collection this Autumn is focused on Nature, with the new Game Bird Collection from Emma Bridgewater in glorious autumnal colours. Emma Bridgewater have also introduced a "Cork" range of coasters which are perfect for your kitchen or would make a lovely gift. The new collection from Rice DK, has a stunning Bird theme which you will find on their Melamine Cups and matching Side Plates.
We are continuing to add to our reusable Coffee Cup collection, and over the next few weeks we will add two new prints to the Joules collection together with their new Water Bottles.
When you have 5 minutes, enjoy flipping through the RICE on-line catalogue and we have all the new range of melamine in stock and the Christmas range will be available from mid October, (also we can special order any items we do not hold in current stock).
Enjoy, the colours of Autumn, and get 10% off your purchases at Vibrant Home by using the code 'Autumn' at checkout.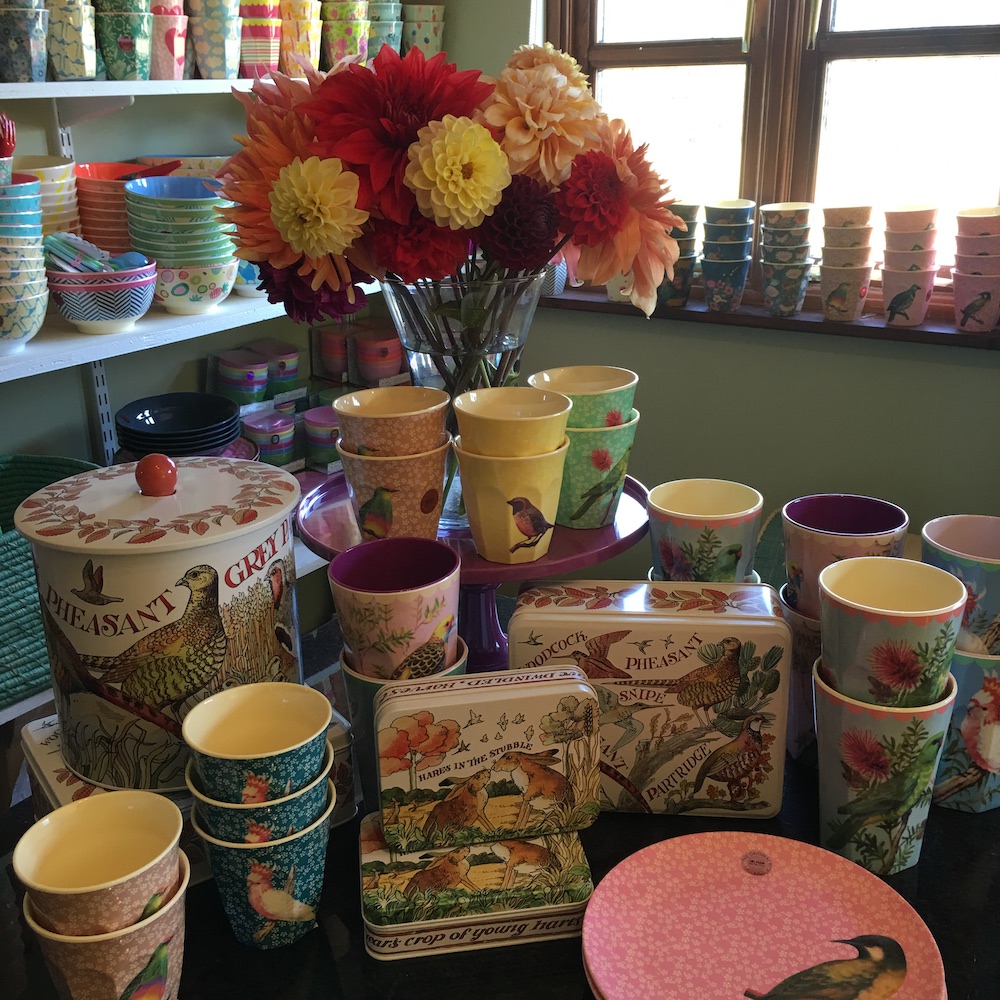 Friday, 24 May 2019 | Sarah
Spring has arrived with its full glory of colour and birdsong, our favourite time of year and the long sunny days of Summer will soon be here.
At Vibrant Home, we have been busy and have had fun adding to our collections. We use all our family and friends as product testers (from our baby niece who has had fun with the rattles from Meri Meri to our glamour Grandmothers who have been using the non-slip mixing bowls by CKS Zeal and the Joules Cakes Tins) before we add them to our website, that way you can be sure we bring you the best quality available.
This year we have added to our existing collection of Reusable Coffee Cups and Drink Bottles from the designers, SWIG. We are always looking for a new Coffee Cups, and whilst their cups are not made from Bamboo, they are completely reusable, have a non-slip base, and an excellent thermal quality. We have also been using the large Matt Black Bottle, for coffee which has excellent thermal qualities and is so easy to drink from – when the weather gets hot we will be swapping to water!
When you have 5 minutes, enjoy flipping through the RICE on-line catalogue and we have all the new range of melamine in stock together with the colourful outdoor Rugs, which are great for giving your Terrace an instant update and spot of colour (also we can special order any items we do not hold in current stock).
Keep thinking of Summer, and get 10% off your purchases at Vibrant Home by using the code 'Summer' at checkout.

Thursday, 31 January 2019 | Sarah
The nights are beginning to draw out, and the glorious colours of Spring will soon be here, just keep that thought through these chilly days.
At Vibrant Home, we have already had a busy start to the year visiting Trade Shows which has lead to us adding new British Designer Joules to our collection as well as building on our existing brands, especially RICE DK and Caroline Gardner. In the RICE collection we have added new colours and prints and from Caroline Gardner the new Bamboo range of Coffee Cups and Lunch Boxes.
This year we intend to add to our existing collection of Reusable Coffee Cups, Drink Bottles and Lunch Boxes. We have identified two Designers that we will be stocking later in the Spring, so keep an eye on our website.
Also, this Spring, after listening to your feedback we have increased our range of Greeting Cards and added the Sara Miller London Collection and FORM 3D cards. Both of these ranges offer high quality cards, the Sara Miller cards are in beautiful rich colours, with gold foil and embossed detail whilst the FORM cards are stunning in both colour and creation.
In the meantime, enjoy flipping through the RICE on-line catalogue (we can special order any items we do not hold in current stock), keep thinking of Spring, and get 10% off your purchases at Vibrant Home by using the code 'Spring10' at checkout.

Wednesday, 24 October 2018 | Sarah
The nights are beginning to draw in, and the glorious colours of Autumn have arrived. This year is passing so quickly, but at least the weather is still bright and warm enough to have coffee in the garden.
Vibrant Home has continued to grow and has seen us this Autumn build on our existing Brands, especially RICE DK and Meri Meri. Within the RICE collection we have included some of the gorgeous furniture which is made to order in Europe and the new rugs are fabulous. This season, RICE have created a beautiful range of toys which will inspire imaginary play with Hobby Horses and Dragon Wings - let the Magic begin!
Talking about Magic, it's approaching that time of year when we all like to create a little something special for our Family and Friends. In our house this year, rather than Christmas Cards we will be sending the glittery wooden gift tags by Meri Meri. The wooden tags have a paper pendant to write a simple message, (which can be removed by the recipient), then can be used as a Christmas tree ornament, creating a lasting memory for years to come.
Early next month the Vibrant Home Team will be off to Denmark to see what fabulous prints and colours RICE have created for Spring 2019 – always an exciting time. Follow our Facebook page to keep up to date with all the latest products and special offers
In the meantime, enjoy the glorious colours of Autumn, and to help you get a head start for Christmas use the code 'Magic' on your order and get 15% off (valid until 31 October and then 10% until 30 November 2018).

Monday, 28 May 2018 | Sarah
We have just enjoyed our first family beach day for the year and as we fast approach the 'longest day' in June it reminded me how quickly the year is passing and how much has happened at Vibrant Home.
A new designer we have seen, loved and now added to our collection is Sara Miller. I first discovered her stationery and home accessories about 12 months ago and have admired how she has incorporated her classic Flamingos print, as well as her latest designs, into her collection. The Sara Miller products are beautiful quality, a joy to use, and make wonderful gifts – I've already taken a cosmetic bag for myself…
Our second exciting addition is the new Porcelain China range from RICE DK. The china is so practical and gorgeous that I can't wait to have it on our dining table. Rice will be building this collection over time, with constant 'core' items as well as special collectors' items. This china is currently available to pre-order on the Vibrant Home site and will be available from early June.
We are also pleased to be partnering with RICE DK on a new Loyalty program. Register an account on the Vibrant Home site and collect three 'stamps' on your virtual loyalty card from orders containing RICE products of a minimum value of £10 and on your fourth order you will receive a free gift pack. To enable a many of you as possible to benefit from this loyalty program we are backdating the stamps for orders made since 1 May 2018. For details see Vibrant Home and RICE loyalty program.
We are currently working on a further series of additions to the Vibrant Home collection. Please keep an eye out for my next blog post with news on these.
In the meantime, enjoy the warm weather, get ready for many picnics and beach days and while we are in the summer mood, enter 'summer' on your order checkout and get 10% off (valid until 30 August 2018).

Tuesday, 13 March 2018 | Sarah
Hello to you,
As I write this blog, last weeks' snow is disappearing, and I tell myself that Spring is just around the corner with all its' beautiful colours. In the garden we already have the first of the spring flowers with the Snowdrops and the purples of the first Iris and Crocus.
As a family we have been busy as per normal with all things school based and the weekend activities that two children always seem to have! With the weather the way it is our JOCO Coffee Cups have proved invaluable. However, with the days getting longer we are turning our thoughts to Spring, it's the perfect time to bring some sun, life and colour to your kitchen and dining. With bright coloured melamine cups and plates with the most amazing prints just perfect for alfresco living or the kitchen table, you'll find everything you need for a springtime kitchen and dining revival.
From Rice we love the new melamine collection; especially the colourful Lupin print which is on so much of the collection this season including the beautiful cushions. The Designer Caroline Gardner has turned our attention to Summer with her love of the tropical vibe with the new "Green Dreamer" collection.
I hope you all enjoy our new collections and we look forward to sharing it all with you by offering you 10% off with the code Spring10, in the meantime enjoy the spring flowers and the sound of the Woodpecker's in the woods, as Spring is defiantly on its way.
To you all, have fun and enjoy the early Spring.

Sunday, 5 November 2017 | Sarah
Having just put the 'Christmas' category up on the Vibrant Home navigation, it's made me realise how quickly the year has gone – and reminded me to give you an update on the new products we have bought to our store. I wanted to highlight three new exciting brands we are bringing to you:
The first of these is Orla Kiely. I've long been a fan of her stationery which incorporates her classic, as well as her latest designs. The Orla Kiely products are of such a "high" quality and are a joy to use and give as a gift – I've already nabbed a pen for myself…
Our second new brand is the Ecoffee cup. This is a new generation of reusable travel coffee cup (reduce the need for landfill!!) made of bamboo fibre that is both strong, insulating, dishwasher proof and does not alter the taste of the drink you use it for. These cups come in a range of colours, including the beautiful William Morris designs and include a co-ordinating silicone lid and band. We love our coffee at Vibrant Home and believe that these Ecoffee cups complement our existing range of Joco Cup's, that we also love.
Finally, we are bringing online the Artisan Rugs and Mats that we sourced during our travels in Portugal this summer. These are beautifully made with a lovely weight and feel and will compliment your home. Each of these rugs and mats are hand woven so we only have a few of each colour and size.
We invite you to delve into our new and existing ranges this Autumn and take advantage of our current 10% discount offer on any items in your basket, simply enter the discount code 'winter' at checkout (valid until 31 December 2017).

Wednesday, 13 September 2017 | Admin
I don't know about you, but for our family the Summer has shot by. Part of this may be due to the 'inclement' weather, but also it has been busy with day trips, a holiday and exploring new products to love and share on Vibrant Home. Now however we are back to work and school and busy getting beautiful new things onto our site.

Over the summer we managed to get away on holiday to Portugal - the home of textiles. It's amazing what Vibrant Home goodies we managed to fit in the car for the trip back - but more of this in my next post. Portugal was hot hot hot, what a shock to get back to September in the UK. Huge thanks to Jane and Pip on our team who dealt with all of the packing and couriers whilst we were away - and thank you for the lovely comments on how wonderfully your deliveries had been wrapped, Jane and Pip loved the feedback.

This week we received the latest Melamine collection from Rice DK, called 'Remember to Dance' - great timing with the start of the new series of 'Strictly Come Dancing' :-). This collection is gorgeous - unfortunately it is so new the 'official' pictures are not even available yet, so I've had to embrace my inner photographer and take my own (so not quite the normal standard…).

Also just in is the new stationery collection from Emma Bridgewater - as always fantastic quality and beautiful prints.
To see our latest productsIf you want to keep up with the latest additions to our collection, Click Here
Having just finished our 'holiday' buying trip as well as the Autumn trade shows there are a lot more new products and designs on the way, so keep an eye out for my next posts.

Hopefully September will provide us a little more sun before our Summer ends, and as it says on the Melamine - 'Remember to Dance' and if you would like a 10% discount use the code 'dance' at checkout (valid until 30 September 2017).

Friday, 2 June 2017 | Sarah
Hello Summer,
The sun is shining and Summer has begun, it's time to head outside
We were off to the Suffolk Show this week, so our picnic bag was packed with lots of colourful melamine and English Strawberries and other goodies to enjoy. Just love this time of year.
Have you seen the new RICE melamine collection of fun bright colours and patterns in cups, plates and bowls? Why not treat yourself to a few new bits to mix and match with your existing collection. Then it will be time to lay your Summer table (have your seen the Raffia placements?), add the paper napkins by Meri Meri, invite your friends, light the barbecue, put the Rosé on ice and enjoy your summertime celebrations....
Or, how about packing a picnic, it's all about enjoying the sun, each other's company, great food and last but not least all the amazing summer colours of nature. The location is all up to you, in the garden, a trip to the beach, in the woods, in the park… just go wherever your mind takes you and if the weather lets you down enjoy a picnic in your living room!
So have fun this summer and enjoy 10% off by using the code 'picnic' – just enter at checkout.

Wednesday, 8 February 2017 | Sarah
Hello to you,
Winter is still here, but Spring is around the corner – just keep dreaming of longer, warmer days, blue skies and the gorgeous colours that Spring brings.
We as a family have already been very busy this year, visiting Trade shows, researching websites and browsing catalogues looking for an array of beautiful things to bring you. This year we are focusing on spending more time together as a family and the collection that we have put together hopefully emphasis this.
Very aptly, the new collection by RICE is called "Today is Fun" and we have chosen beautiful melamine, picnic blankets and cushions to emphasis this. The new baskets are the perfect size to take to the park after school, put in a couple of melamine cups, a bottle of juice and fill a colourful box with Homemade treats and enjoy the time together. At the weekend when time can be a little more plentiful then pack a sandwich, let the children help.
For the garden this year, we thought we would have fun with colour and have introduced into the collection pretty ceramic Bird Baths as well as gorgeous Hand Trowels and Forks to make the gardening more fun.
But in the meantime whilst the weather is still chilly and you are out and about, don't forget to take your coffee with you in one of the gorgeous travel cups from either Caroline Gardner or Joco – you can even take them to your local coffee shop and ask for your coffee to be made in your cup, thus saving a (non-recyclable) paper one . If we stop just a handful of paper coffee cups going in the bin then we are happy – every little bit helps.
I hope you all enjoy our new collections and we look forward to sharing it all with you by offering you 10% off with the code Spring10, in the meantime keep warm and dream about the Spring time that will soon be here - I know we all will.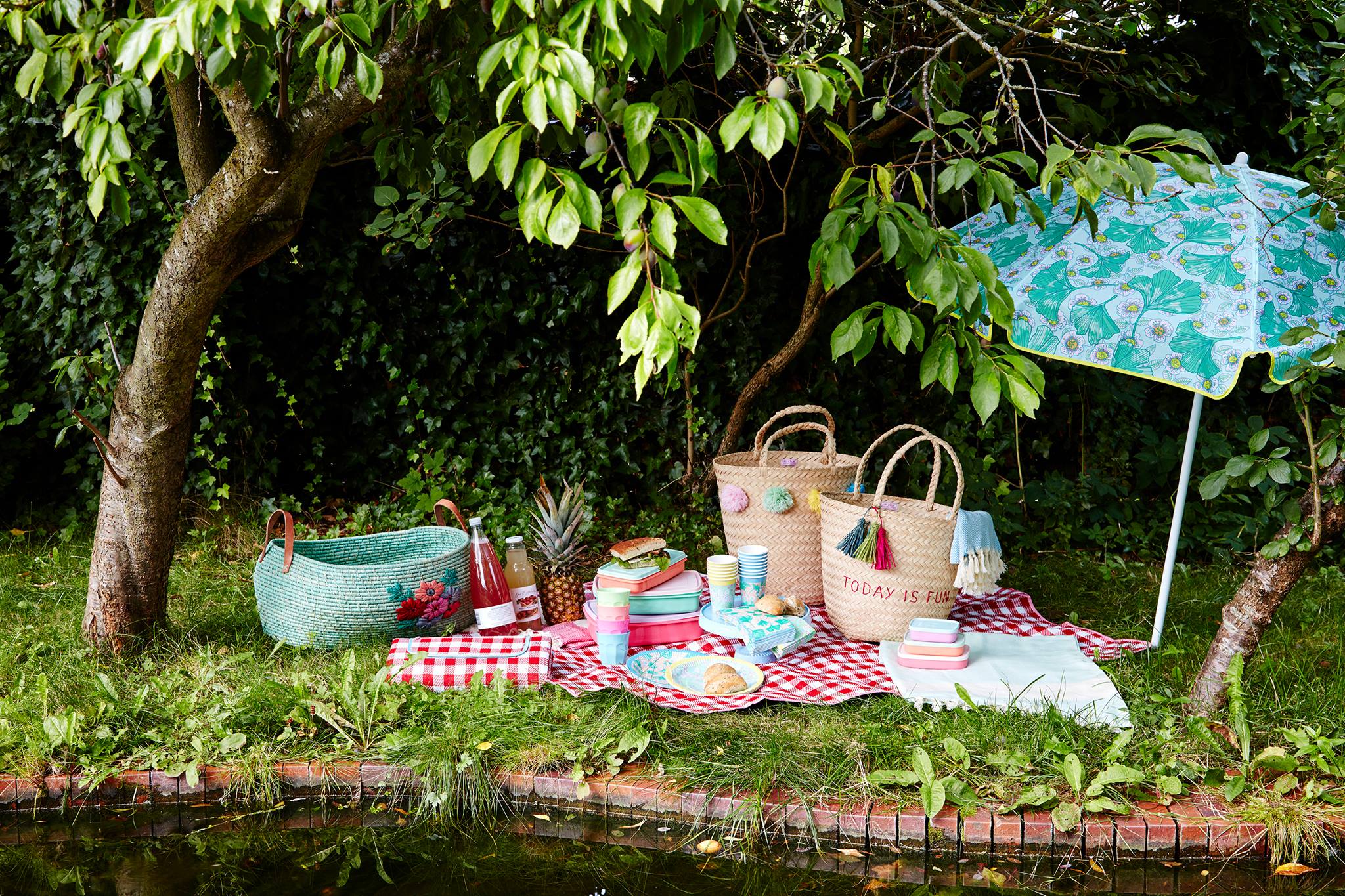 Page 1 of 3 (27 Posts)